Kingdom Hall Recorder/Player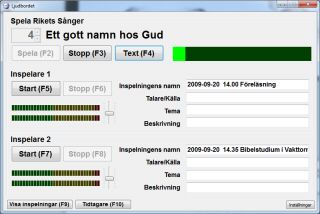 KH Sound is a easy to use program to simplify the work at the sound table.
Download the program and try it out, it's fully functional no registration is required.

If you want to show your appreciation, anything from an e-mail telling me you use the program to a small token will be appreciated. Send the mail to: khsound@bokbacken.net
Update 2016-02-13: Support for additional fileformats for songs, it is now possible to enter three different file nameings for our songs and they will be selected in the specified order.
CD/DVD Burning is not included anymore in the program.
Update 2014-10-10: Support for the new songs!
In settings you can now select the number of songs to support in the player.
Please observe that you must rename the new songs according to the current naming convention
Example: snnw_E_136.mp3 should be renamed to iasn_E_136.mp3